McDonald's Plays Brand Offense
By Mike Myatt, Chief Strategy Officer, N2growth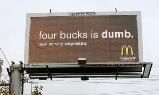 If you wonder what smart companies do to gain market share in down economies just look at McDonald's…McDonald's plays brand offense. McDonald's understands that playing brand offense is exactly what it takes for businesses to thrive in a down economy. In fact, over the last year they have flawlessly executed an aggressive brand assault on Starbucks that has been nothing short of pure genius. In today's post I'll contrast the marketing brilliance of McDonald's vs. the tentative approach of Starbucks…
Before we dive into today's case study in brand management, I would recommend reading "Recession Proof Your Business" as a backdrop for today's piece. This prior post provides further support to my position that smart companies play brand offense by increasing their marketing and advertising initiatives, while their more conservative competitors are busy managing risk. Let me be very clear that I am a strong believer in defending brand equity, it's just that I believe the best way to protect brand equity is to increase it. From my perspective, if you're not taking market share from your competition, then they are likely taking it from you…it's just that simple.
If we were to roll back the clock a few years it would be difficult for most brand aficionados to see how the Golden Arches would pose any real threat to the king of retail coffee. After all, Starbucks is an upscale, premium priced, gourmet coffee outlet that caters to an affluent market based upon attitude and environment. Contrast this to McDonald's who sells fast food at inexpensive price points. The only thing the two brands would have appeared to have in common was that they sold food through retail stores, and that would be about it. Well, somebody forgot to tell McDonald's…
You see if you look past the Happy Meals and Dollar Menus you'll find that the hallmarks the McDonald's brand are built upon are value, speed, and efficiency. This is something Starbucks had obviously overlooked. While Starbucks was resting on their laurels, McDonald's simply saw a the ability to create a line extension into the gourmet coffee business by bringing value, speed, and efficiency to Starbucks door-step. 
Where did Starbucks go wrong…The economy was slowing, consumers were growing weary of $4 dollar coffees that you have to wait in long lines for, Starbucks service wasn't what it once was, and at the corporate level, Starbucks was tightening their belt, closing stores, and pulling back on the innovative marketing initiatives that created their category dominant position to begin with. Their business model had become static, and they were out of touch with the market. However Starbucks biggest mistake was not fighting back against the McDonald's attack. As an old soldier I can assure you that you cannot win a battle you do not fight. While you might delude yourself into thinking you have won the fight by "picking your battles" and fighting on different fronts, full out assaults must be repelled or you'll be overrun. This is exactly what happened to Starbucks.
Where did McDonald's go right…they didn't manage risk, they exploited an opportunity. They didn't play defense, they played offense. They went on an all out full-frontal marketing and advertising blitz that included among other things placing billboards in close proximity to Starbucks clearly stating their value propositions. They told the consumer that they understood their needs better than Starbucks, and Starbucks didn't fight back…McDonald's applied their brand strengths to fill an unmet need in the market…gourmet coffee served faster, cheaper, and according to independent taste tests…better.
The lesson here are simple:
As markets mature service providers must become efficient to prosper;
Business models must remain fluid and adapt to the needs of the consumer.;
Category dominant brands only remain so if they stay on offense;
A true focus on customer centricity trumps trendy ambiance 11 times out of 10, and;
In the food business, taste matters.
 McDonald's…job well done.