N2Growth Chairman, Mike Myatt Named as Top 30 Leadership Professional Globally
January 21, 2020 – N2Growth, a top executive search and leadership advisory firm with more than 50 locations globally, announced today that its Chairman, Mike Myatt has been named as one of the top 30 leadership professionals in the world. Myatt was ranked for the 6th consecutive year amongst high-performance leaders who are being recognized for their global contributions to the practice of leadership. Others ranked this year included Simon Sinek, Tom Peters, Ram Charan, and Jim Colins among others. "It's always an honor to be recognized for the quality and impact of your work, especially among such an esteemed group of leadership professionals" said, Myatt.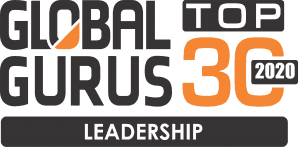 What is Global Gurus?
Global Gurus is a research organization that selects remarkable leaders who make an impact. In their judging, they focus on those who develop and instill competency in others. The winners support knowledge and personal/organizational development in their fields through speaking, training, books, and media.
In Good Company
The Top 30 Gurus are the cream of the crop, viewed as the most influential professional speakers, trainers, coaches and consultants on the planet. They apply their world-class skills, experience, research, and overall smarts to help organizations achieve market excellence and assure that leaders reach their full potential.
GlobalGurus.org is a global organization that has been ranking thought leaders since 2007 and shares that its primary criteria are: an impactful unique perspective, system, or approach that is practically implementable within their category of expertise.