Thandi Orelyn is a South African lawyer and business executive who has been active mainly in the financial sector.
She is a co-founder and executive director of Peotona Group Holdings. Thandi chairs the board of BP Southern Africa and serves on the boards of Toyota S.A. and Toyota Financial Services (South Africa). She has also served as a non-executive director of the South African Reserve Bank. I caught up with Thandi at an employee engagement conference and could not pass up the chance to ask her thinking behind the title of her keynote speech, "Leading and succeeding" in the 21st Century".
Interview Summary
JH: To lead is a topic in itself, and to succeed is another; but when combined, it is a tall task to achieve both at a high level. What is your perspective on challenging someone on the importance of "leading and succeeding"? 
TO: Thank you, Jim, for the question. My main emphasis and message across to the audience were ensuring that people take accountability for how they lead. I challenge people to reflect upon someone they admire and look up to. I ask if that is the person you think is doing it right, are you like them also? Are you leading like you want or need to be?
For me, accountability is the critical point of emphasis when I talk with leaders and challenge them to accept this responsibility called leadership.
JH: We have a metaphor that says, "it's essential to look in the mirror at yourself instead of looking out a window and blaming others." Your message of leader accountability, I think, resonates around the world, when corporate cultures choose to become high-performing organizations.
JH: Thandi, if you could magically transport back in time and whisper one leadership nugget of information into a younger self of you, what would be that one bit of wisdom that's relevant today? 
TO: In this 21st century, we are talking about the fourth industrial revolution, and everybody is talking about "systems," I.T., big data, A.I., etc. But I continue to reflect that all these things (systems) happen to people. Therefore, leadership is about people who lead people, and you can work through the complex process of people. So my message is that with any of these "systems" providing information, it all still boils down to people. A modern leader has to understand their people and the daily effect on them to better lead with "systems" only being a supporting element of success. 
JH: I love that message because it's universal. It's cross-cultural and industry agnostic. It's about human-centric leadership. 
Thandi, I know you're very focused on human-centric leading, and you put that mindset into practice in all your ventures. If you look into the future, there are potentially new leadership competencies that we should all evaluate to see if our teams will handle complex tasks in the new environment. What do you think are some of the most critical skills for future leaders? 
TO: Without a doubt, it would be managing change. The future is dynamic in this space, everything in social media, in the public arena, is changing. And as a leader, you've got to accept that change and stay ahead of it. You've got to lead your people in the context of being fearless around change. Embrace change, predict that it will be omnipresent, and encourage everyone around you to use it in a resilient way. 
Key Leadership Takeaways:
Accountability in leadership. You are accountable to your people, investors, customers, and board members, and, most importantly, be accountable to yourself!

Never forget the golden rule that people are your most valuable asset. 

Embrace change as a leader. We have a saying called MAX FLEX! Which simply means, "have maximum flexibility".
What are your thoughts on Thandi's perspectives? Please post your comments below and let us begin building a tribe of people who have a passion for followership, mentorship, and leading!
---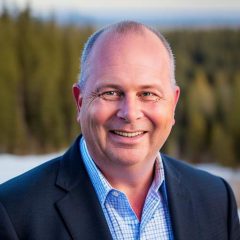 Jim Hotaling serves as Head of Leadership Development and Assessments at N2Growth. He has a track record of being highly successful in environments demanding crisis management and problem-solving skills, organizational development, team building, and uncompromising integrity has made this position a true joy. Prior to assuming this role, Jim served as the Chief of Staff to the office of the Chairman at N2Growth where he received world-class mentorship from some of the brightest minds in the field of leadership. Before joining N2Growth, Jim had the honor of serving as the eleventh Command Chief Master Sergeant of the Air National Guard.
All author posts
---
Our executive search practice focuses on senior executive, board and C-Suite searches. The world's leading brands seek our counsel to build best-in-class leadership teams, to manage performance, and for succession planning.
Find Leaders
Our broad portfolio of executive coaching & leadership development services pushes companies and teams to greatness, whether through 1:1 executive coaching or enterprise-wide leadership advisory. There actually is a silver bullet in business – it's called great leadership.
Develop Leaders