Strategy management processes and the so-called "best practices" most organizations follow have not kept pace with the demands of the marketplace and the performance expectations of shareholders. By definition, best practices are "tried and true," meaning they have been around for a long time—too long.
It is unlikely that you will ever create a competitive advantage following the same practices as your competition.
N2Growth has been and continues to develop innovative Next Practices that improve and accelerate the way strategy is formulated, planned, executed, and managed. These Next Practices come out of our client experiences from around the world to discover and create more effective ways to achieve competitive advantage and outstanding results from strategy investments.
At N2Growth, we have made a commitment to developing these innovative Next Practices because we strongly believe that:
Mechanical, step-by-step linear processes for developing and executing strategy are ineffective.
Best practices for managing strategy are old, slow, outdated, and don't produce the needed and expected results.
The strategy is a team sport that requires horizontal and vertical teamwork, up and down the chain of command. Not over-reliance on a few senior executives and external resources.
A strategy must be fully integrated with all human capital programs such as leadership development, organization development, talent management, and cultural development.
Every organization is different; the key to success is to apply the right set of Next Practices necessary to create an advantage and realize strategy for your organization.
Paradigm-Shifting Next Practices of Advantage Strategy
When you call a plumber to your house to fix a leaky faucet or burst pipe you want the plumber to be prompt, understand the issue, and fix your problem quickly. You don't really care what tools are in their tool kit or which ones are needed; you just want him/her to use their expertise and the right tools to get your job done right. If you're an experienced plumber, you know that every job is different and requires the right combination of expertise, experience, and tools. Think of Next Practices as the tools in your new strategy tool kit. They are all available but you only use the practices necessary in each situation that match the particular strategy needs of your organization.
In the table below, we've organized a partial list of Next Practices ordered as they are typically applied in the strategy management life cycle—Preparation, Design, Planning, and Execution. In practice, however, the good "strategy plumber" only selects the ones needed by their customer to get the job done right.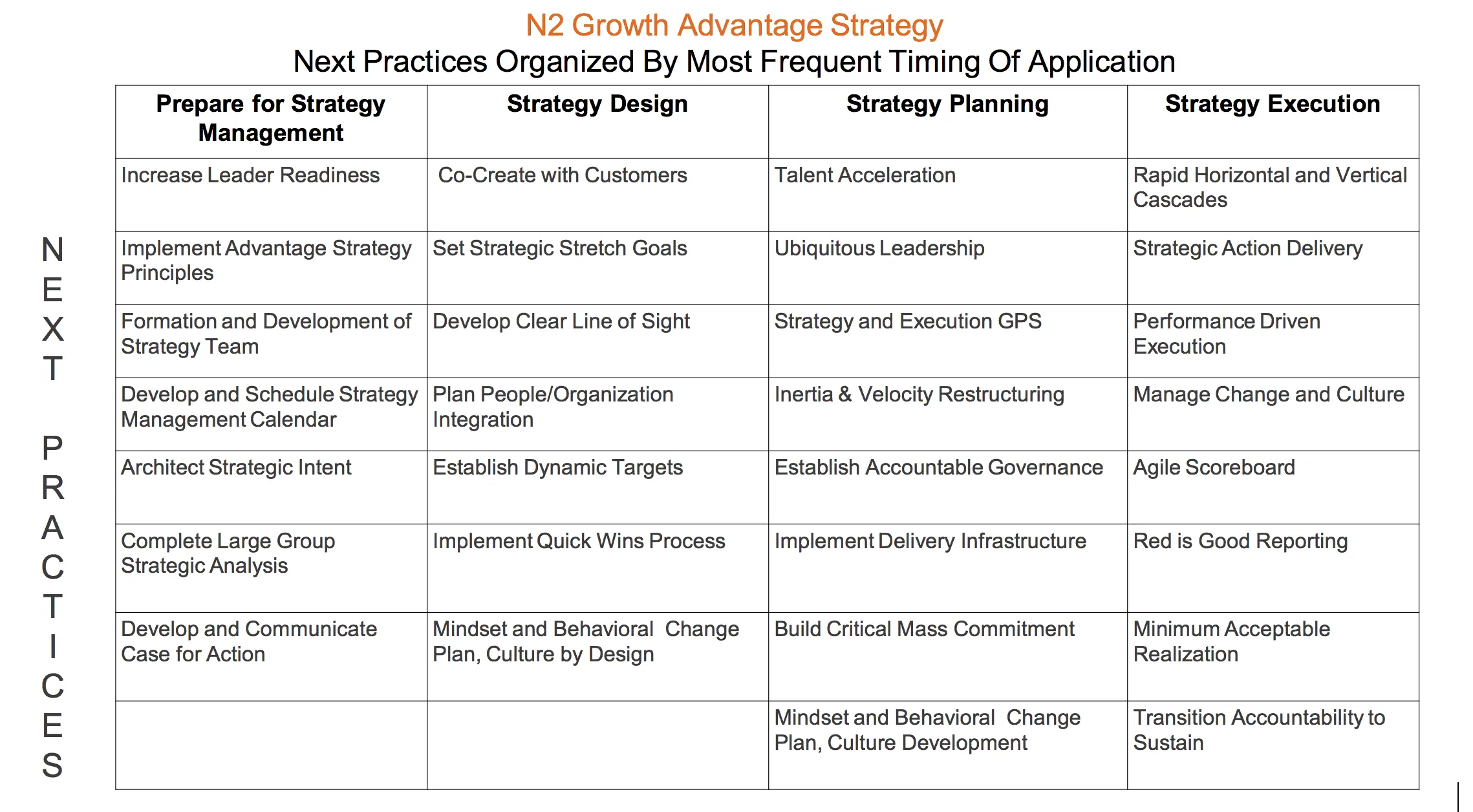 For this blog, we have selected a few of these Next Practices to discuss in some detail to help you better understand how they work to support the Advantage Strategy paradigm: Ubiquitous Leadership, Line of Sight, Inertia and Velocity Restructuring, and Talent Acceleration
Ubiquitous Leadership
Having a few very good leaders at the top of your organization is necessary but insufficient to successfully develop and execute strategy. Leaders are needed at every level of the organization, from every business, function, and geography. In fact, every single person in the organization should have an understanding that they are expected to lead in some way. They may not all have the same leadership role, but everyone should have some leadership to provide even if it is as simple as being able to explain your company's strategy to a customer or a new employee. The best practice of the past was to develop leaders at the top. The Next Practice is to develop leaders everywhere!
Line of Sight
Drawing a circle on the map does not guarantee that everyone in your organization can or will get there when you need them there. People need more than a measurable goal and a time frame to get there. That was the best practice. The Next Practice is to describe your organization from the future.
It's the year 2020; what does your organization look like? How do customers, employees, shareholders, and the communities you serve describe it? Beginning with the end in mind, develop a story of what has been accomplished. Describe the journey the organization experienced from where you started in 2015. Develop the story including the why, what, when, where, and how of the strategy journey your organization has completed. The story of your strategy journey should also highlight the strategic actions that were taken, and when.
Developing a high-quality vision for the future of your organization in this way provides an opportunity to engage the imagination, creativity, hearts, and minds of many people. Through the process, you can begin to identify not only the future measurable accomplishments but also the key strategic milestones accomplished along the way. From this can be extracted a clear line of sight to the future, along with the key signs of progress toward that future that many helped develop, everyone can understand, and the CEO can use to chart progress on the journey toward that future.
Inertia and Velocity Restructuring
To break the inertia of the status quo and to realize immediate cost savings, a tangible and significant signal to the organization is necessary. Minimizing disruption and taking your time to slowly change the organization's structure so as to not rock the boat is best practice. The Next Practice is to shake things up and demonstrate a serious commitment to change and executing strategy. Right from the beginning of the strategy design process (or refresh), efforts should be underway to design a better, more efficient, fit organization that enables the strategy and future destination. Not one that stands in the way of it.
The opportunity to seize efficiencies in the new design, facilitate faster, better decision-making, and clarify roles, responsibilities, and accountabilities, should be key design criteria. Implementing a newly-designed organization structure at the front end of strategy execution will break the inertia of the status quo, generate immediate cost savings to help fund your strategy, facilitate faster and better decision-making, and increase your organization's velocity of change.
Talent Acceleration
Not all jobs and capabilities are of the same importance from the standpoint of strategy execution. Strategy defines the future direction of your organization. To get there, you must have the right kind and the right number of people with the strategic capabilities that are necessary to execute. Every organization has, or should have an overall talent management plan; that is best practice. The Next Practice, however, is to integrate talent management with strategy development to identify talent gaps during strategy formulation, not after. The identification of strategic jobs and capabilities, an assessment of what you have and what you need, and the development of a strategy-focused talent management plan to close the talent gap, should be interwoven into the strategy development process. In so doing, the identification, acquisition, development, and deployment of talent are accelerated substantially.
To fully achieve breakthrough results from strategy, Next Practices from strategy development to execution are required. Contact our strategy team to learn more about working with us on creating advantage through Next Practices in strategy.
---
Our executive search practice focuses on senior executive, board and C-Suite searches. The world's leading brands seek our counsel to build best-in-class leadership teams, to manage performance, and for succession planning.
Find Leaders
Our broad portfolio of executive coaching & leadership development services pushes companies and teams to greatness, whether through 1:1 executive coaching or enterprise-wide leadership advisory. There actually is a silver bullet in business – it's called great leadership.
Develop Leaders